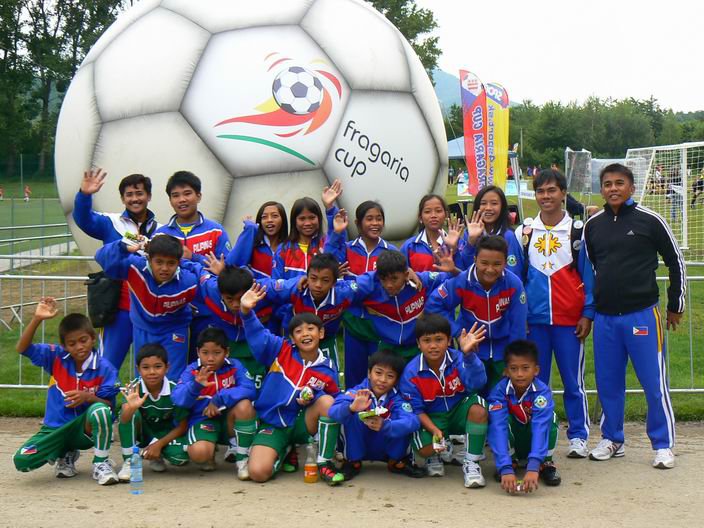 Tak ako Slovensko a Európa žije hokejom, futbalom, cyklistikou, lyžovaním a podobne Filipíny majú za šport číslo jedna basketbal potom box, plávanie, bedminton, stolný tenis podobne.
Náš prvý spoločný záujem bol detský futbal. Keďže na Filipínach je ento šport v plienkach, orientovali sme sa na mládež. Lebo sme naklonení myšlienke, že ak chceme vybudovať kvalitný šport, musíme začať s výchovou mládežou, aby sme postavili zdravé korene futbalu. V spolupráci s organizátormi Medzinárodného šampionátu detí a mládeže FRAGARIA CUP v Prešove sme dali dokopy hlavy a aj v spolupráci s Don BOSCO sa nám podarilo nadviazať spoluprácu pri účasti detí na tomto významnom futbalovom podujatí detí a mládeže v Európe.
Na víťazstvo potrebujete tri veci: disciplínu, tvrdú prácu a predovšetkým odhodlanie. Bez týchto troch to nikto nezvládne. Šport vás to naučí.

Haile Gebrselassie
Growth through innovation:
Úspech sa dostavil takmer okamžite. Aj keď mladí reprezentanti futbalu z Filipín nedosahovali v technike a skúsenostiach svojich rovesníkov z Európy, dosiahli u všetkých ohromný obdiv a uznanie za ich húževnatosť, vytrvalosť a entuziazmus s akou vstúpili do každého futbalového zápasu.
Táto skúsenosť s detským futbalom nás opäť veľmi inšpirovala a motivovala rozvíjať aktivity aj pre ďalšie športy. Takže budeme svoje aktivity v športových podujatiach rozširovať.
Nakoľko takéto detské športy nie sú nijako dotované, sú závislé vo veľkej miere len na podpore rodičov, budeme sa snažiť osloviť čo najviac organizácií, inštitúcií a sponzorov, aby nás podporili.
Uvítame príležitosť a možnosti, ktoré nám pomôžu pri tejto športovej činnosti a to či už pri organizovaní športových podujatí alebo aj pri zapojení sa do medzinárodných alebo priateľských súťaží medzi dvoma kontinentmi.